In this SAP CRM training tutorials, we are going to discuss about sales order scenarios in SAP CRM and ERP SAP ECC systems.
When we create sales order in sales order in SAP CRM, After successfully sales order processed in crm it will be updated in the ERP SAP systems. Sale orders contains all the details like delivery, shipping, pricing, etc. All this information has to be update in the back-end of ERP SAP system. Finally Billing can be created in either SAP ECC systems or SAP CRM system.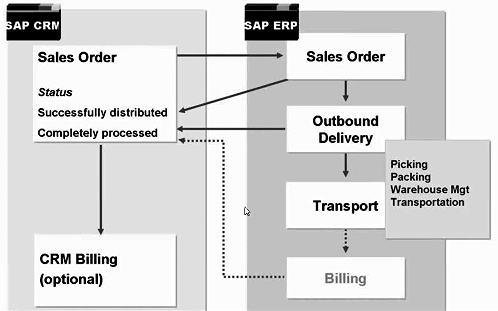 From above diagram..
Once sales orders has been created in SAP CRM system, it updates in SAP systems. Then all the details like outbound delivery, transport (like picking, packing, ware house management) are maintained in the SAP ECC. After maintains all this information you can create invoice billing SAP ECC system or SAP CRM.