Define transaction types for service order
The following SAP CRM training guides how to define transaction types for service orders in SAP CRM step by step. In our previous training tutorials we have learnt how to define number ranges for CRM service transaction in SAP.
Transaction types enables the properties and characteristics of a business process such as sales orders, services, calls, etc. It can assigned to a number of business transaction categories.
Procedure to define transaction types for Service orders
Step 1: – Enter transaction code "SPRO" in the SAP CRM systems command field and press enter.
Step 2: – On customizing execute project screen, select "SAP Reference IMG"
Step 3: – On display IMG screen, follow the IMG path and double click on "define transaction types"
SAP Customizing Implementation guide >> Customer relationship management >> Transactions >> Basic settings >> Define transaction types
Step 4: – On definition of transaction type overview screen, click on new entries to create new transaction types for service orders.
Step 5: – On new entries screen, update the following details.
Transaction type: – Enter four digits alphanumeric key that identifies the transaction type for service order in SAP and update text of transaction type for.
Description: – Update the descriptive text of transaction type.
Leading Transaction category: – Select the type of transaction category
Text det. procedure: – Update the text determination procedure key
Partner determination procedure: – Update the partner determination procedure key.
Org. data profile: – Update the organization data profile key.
Partner function org: – Update the partner function org type, entries are like Activity partner, Employee, contact person, person responsible and employee.
Transaction number: – Update the number range interval of CRM service transaction for internal number assessment.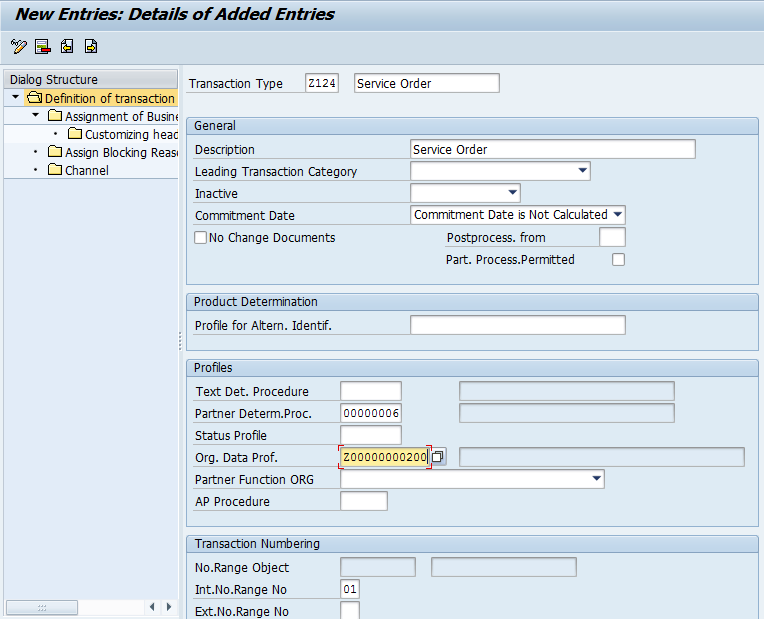 After updating all the details click on save button, then you prompt for request number and select request and save the configured data.

Now double click on "Assignment of business transaction of category" and assign the transaction category for transaction type.

Successfully we have defined transaction types for service order in SAP CRM.