BDocs stands for Business Document, used for the data exchange and processing in a SAP CRM system environment. BDocs are used to carry business object as a single unit so the individual tables are not required to be transferred.
CRM middleware connects the CRM system and ECC systems, middleware helps to exchange the business objects from system to another systems. Bdoc in CRM middleware transfer the data through qRFC.
We have two of Business documents mBDoc and sBDoc.
mBDoc (Message BDocs) used for the messaging b/w the systems of SAP ECC or other system and SAP CRM System.
sBDoc (Synchronization BDocs) use for processing and handling the data in mobile clients.
When the data is exchanging, the data enter to CRM and the data is validated by a validations.
The Message Business documents layer uses this Doc types and exchange the data with the CRM system, ECC, and other systems.
Admin Console controls the received data and sen to the outbound the adapters.
mDoc acts as envelop, where the CRM middleware cannot access the data inside the envelop and they can access the data on the envelop. Every application uses different address for e.g. sales order can be triggered according to the sales organization only.
How to Create BDoc in SAP CRM
SAP provides standard BDoc types and Services, we can create custom types and Service as per business requirements. We can create custom BDoc's in SAP by using one of the following navigation method.
SAP Menu >> Architecture and Technology >> Middle ware >> Development >> Meta Object Modeling >> BDoc Modeler
Transaction code: – SBDM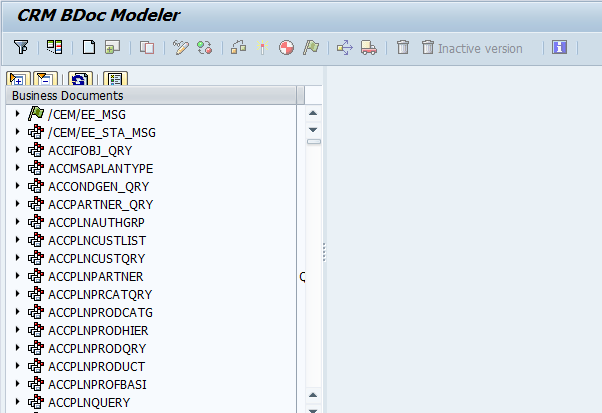 BDoc Monitoring
BDoc can be monitored by using the transaction codes"SMW01″. Here we can analyze Bdoc details like BDoc State, flow data, flow context, object link, etc. BDoc can be modified, delete o reprocess if required.