How to maintain organization data profile in SAP
The following SAP CRM training tutorials guides how to maintain organization data profile in SAP CRM step by step. In our previous SAP Customer Relationship Management training tutorials we have learnt how to "define partner determination procedure in SAP CRM"
Organization data profile helps to determine that the persons that are creating business transaction in SAP CRM systems are assigned to a organizational unit as an user or business partners with assigned user.
Procedure to maintain organization date profile
we can define organization data profile by using one of the following navigation method.
Transaction code: – CRMC_ORGPROF
SAP IMG Path: – SAP Implementation Guide >> Customer Relationship Management >> Master data >> Organizational Management >> Organizational data determination >> Change rule and profiles >> Maintain organizational data profile.
Step 1: – Enter transaction code "CRMC_ORGPROF" in the SAP command field and press enter.
Step 2: – On change view "organization data profile" overview screen, click on new entries for maintaining new data profiles as per business process.
Step 3: – On new entries screen, Update the following details.
Profile: – Enter the profile key that identifies the organizational data profile in SAP
Scenario: – Select the scenario from the list, possible entries are Sales, Service and BPP.
Organization model determination Rule: – Update the organization model determination rule
Mandatory field: – Select the mandatory fields of Sales organization, distribution channel and Sales office.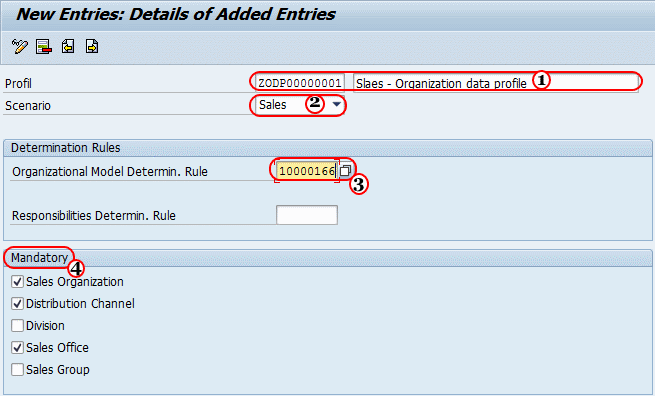 After updating all the details, click on save button and then you prompt for customizing request. Select your request number and save the configured data.

Successfully we have maintained organization data profile in SAP CRM.