Budget profile for projects
The following training tutorials guides you how to maintain budget profile for projects in SAP step by step.
You can define budget profile for projects by using one of the following navigation method.
SAP IMG Path: – SPRO >> IMG (F5) >> Project system >> costs >> Budget >> Maintain budget profile in SAP.
Transaction code: – OPS9
Step 1: – Enter Transaction code "OPS9" in the SAP command field and press enter.

Step 2: – On budget profile for project overview screen, click on "New entries" to maintain budget profile as per organization requirements.

Step 3: – On new entries budget profile screen, update the following details.
Profile: – Update the new unique id that identifies the budget profile in SAP PS system.
Text: –  Update the descriptive text of the budget profile.
Time frame: – Time frame has three options.

Past: – Update the number of past years that you are authorized for budgeting from current fiscal year.
Future: – Update the number of future year that you are authorized for budgeting from fiscal year.
Start: – Enter start year of the budgeting, generally it is a current fiscal year i.e budget starting year.
Total values: – Select this field if you want maintain budgeting on basis of overvalue.
Annual values: – Select this option for maintaining budget on yearly basis.

Investment management : – Update the program type budget for an investment program.
Representation: – Update the representation values such as decimal value and scaling factor.
Availability control: – It determines how budget profile is controlled.
Currency translation: – Update the currency translation methods such exchange rate method and value date (date of the exchange rate for currency translation)
Budgeting currency: – It has three options, controlling area currency, object currency and translation currency.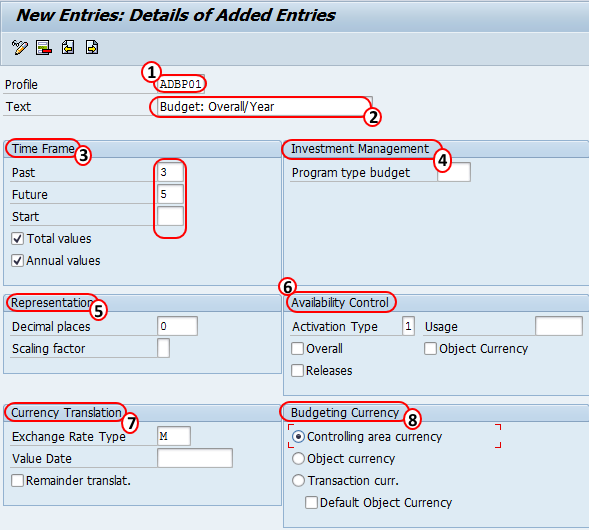 After updating all the mandatory details as per business requirements, click on save button to save the configured budget profile data.