Create change planning profile
The following training tutorials guides you how to create and change planning profile in SAP step by step. In our previous training we have discussed about how to create costing variant and maintain execute service profile.
You can create planning profile in SAP by using one of the following navigation method in SAP.
SAP IMG Path: – SPRO >> IMG (F5) >> Project system >> costs >> Manual cost planning in WBS >> Hierarchical cost planning >> create/change planning profile
Transaction code: – OPSB
Step 1: – Enter transaction code "OPSB" in the sap command field and press enter.

Step 2: – On the screen, planning profile cost and revenue planning for projects, click on new entries.

Step 3: – On new entries screen, update the following fields.
Profile: – Update the unique id that identifies the planning profile in SAP and enter its descriptive text of planning profile.
Manual planning: – Check the option bottom up planning and planning elements if required
Time frame: – Update time frame fields past, future, start

Past: – Update the number of past years that you are authorized for planning from current fiscal year.
Future: – Update the number of future year that you are authorized for planning from fiscal year.
Start: – Enter start year of the planning, generally it is a current fiscal year i.e planning current year.
Total values: – Select this field if you want maintain planning on basis of overvalue.
Annual values: – Select this option for maintaining planning on yearly basis

Detailed planning and unit costing: – Update the specific element groups that required for you planning profile as per organization requirements.
Representation: – Update the field decimal value (it determines no of decimal places) and scaling factor (it specifies constant units)
Currency translation and overall plan values: – Update the exchange rate type method and its valuation date.
Planing currency: – Update the currency for you planning profile, by default system currency option is control area currency.
Automatic revenue planning: – It determines automatic planning and select the options from quotation and from sales order as per planning requirements.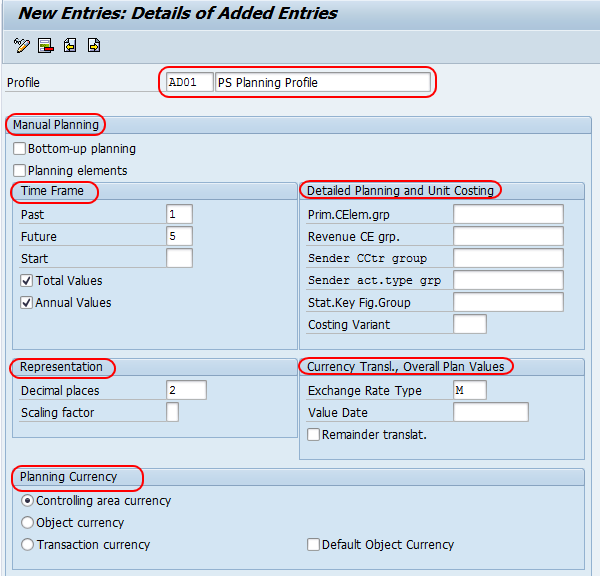 After updating all the details, and click on save button and save the configured data.