Create Costing variant
The following SAP training tutorials guides you how to create costing variant in SAP step by step. You can maintain costing variant in SAP by using one of the following navigation method.
SAP Menu Path: – SPRO -> IMG -> Project system -> Costs -> Planned costs -> Manual cost planning in WBS -> Unit costing -> Create costing variant.
SAP Transaction code: – OKKT
Step 1: – Enter transaction code "OKKT" in the SAP command field and press enter.

Step 2: – On costing variant overview screen, click on "New entries" to create new costing variants.

Step 3: – On new entries screen, update the following fields.
Costing Variant: – Update the four digits alphanumeric unique ID that identifies the costing variant in SAP and update the descriptive text of the costing variants.
Control: – Under control tab, select appropriate options for you costing variants, here we selected (Unit cost est. for project, planned valuation orders, easy cost planning (PS)).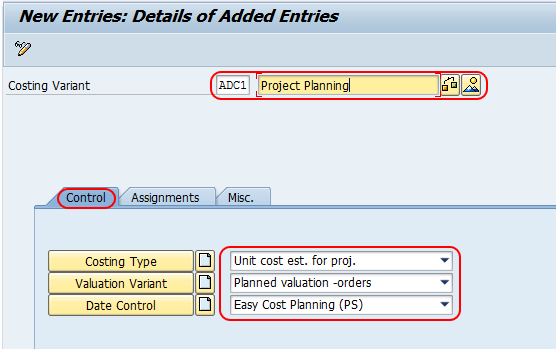 Step 4: – Select "Misc" tab and select appropriate option for cost element for unit accounting.

Click on save button and save the configured costing variant data.