Activity control key
The following training tutorials guides you how to maintain activity control key in SAP step by step.
Yo can maintain control key by using one of the following navigation method in SAP
SAP IMG path: – SPRO >> IMG >> Project system >> Structures >> Operative structures >> network >> Settings for Network >> settings for network activities >> Define control key
Transaction code: – OPSU
Step 1: – Enter transaction code "OPSU" in the SAP command field and press enter.

Step 2: – On activity control key screen, click on "New entries" to create new control keys.

Step 3: – On new entries screen, update the following fields.
Ctrl: – Update the four digits alphanumeric id that identifies the control key in SAP
Description: – Update the descriptive text of the control key.

After updating the data click on save button to save the data. Now update the following fields.
Indicator: – Update the following option under indicator field.

Scheduling: – Select this option to perform the activity elements according to the scheduling parameters.
Det. capacity. Requirements: – It determines that activity elements have capacity requirements. This option should be selected if scheduling option is selected.
Gen costs. act: – Select this option to use the control key by general costs.
Cost: – Select this option to determine the cost with activities.

Print time ticket: – Select the option print time tick and update "2" (confirmation required) in confirmation field.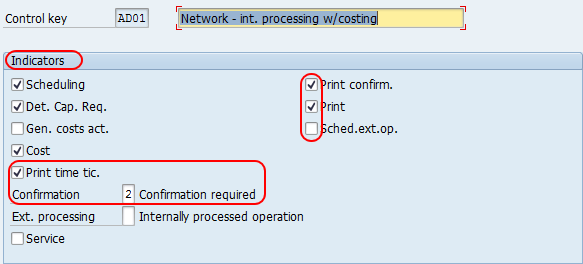 After maintain all the required field, click on save button and save the configured activity control details.