Define Tactics
In this SAP CRM Training configuration steps, we are going to define tactics for campaigns and campaign elements or trade promotions and trade promotion elements. In our previous SAP training tutorials, we have learnt how to define objectives in SAP and next configuration part is maintaining tactics. We are going to maintain the following data.
| | |
| --- | --- |
| Tactic |    Description |
| TA01 | Product description |
| TA02 | Promotion |
| TA03 | Special Offer |
Step 1: – Enter transaction code "SPRO" in the SAP command field and press enter to continue.
Step 2: – In next screen execute project, click on "SAP Reference IMG"
Step 3: – On next screen display img, follow the menu path and double click on "Define Tactics".
SAP Customizing Implementation Guide >> Customer Relationship Management >> Marketing >> Marketing Planning and Campaign management >> Basic data >> Define Tactics.
Step 4: – On change view "CRM Marketing planning tactics" screen, click on new entries to maintain new tactics a per your business requirements.
Step 5: – On new entries Tactics screen, update the following details.
Tactic: – Enter four digit key that identifies the tactic in SAP systems.
Description: – Update the descriptive text of tactic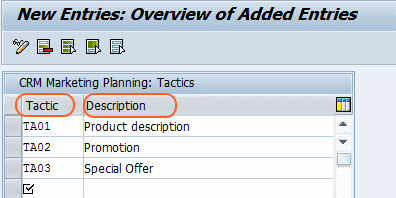 After updating all the details, click on save button to save the data. Then you prompt for customizing request, select your request number and press enter and save the configured data.
Thus successfully we have defined tactics in SAP CRM.