Posting Period Variants in SAP
The Posting Period Variants ( PPV ) in SAP are used to control which accounting period is to be open & close for postings and to ensure that the closed periods remain balanced and reconciled. We can assign posting period variants to one or more company codes.
Important Points – Posting Period Variants Scenarios
Posting Periods can be opened and closed for all company codes in SAP by the PPV.
The posting period variant controls what period to be open and what to be close for a particular company code in SAP.
One posting period can be assigned to one or more company codes as per requirements.
Steps to Create Posting period variants in SAP:-
In this scenario, we are going to define the posting period variant for the country India & US. You can control the posting periods for each country with different PPV. If you use a single PPV for different countries, when you open the posting period for India, it opens automatically for the country US. So it is recommended to create posting period variants separately for each country.
Step 1:-Type SPRO in the Command Field of the SAP Easy Access Menu Screen and press Enter key on the Keyboard.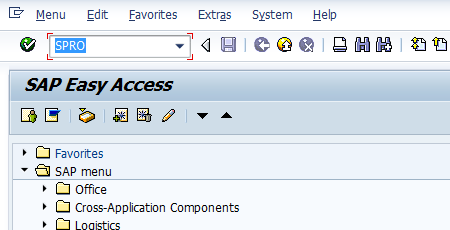 Step 2:-  Click SAP Reference IMG Icon

Step 3:- In the next screen, follow the menu path to create a posting period variant.
IMG Menu Path:- SPRO > Implementation Guide for R/3 Customizing (IMG)  –> Finance Accounting –> Finance Accounting Global Settings –> Documents –> Posting Periods –> Define variants for open posting periods
Step 4:- The define posting period variants screen is displayed; click on new entries to create SAP PPV
Step 5:- Enter a four-digit code in the Variant field, and update the variant name in the name field. Here we created posting period Variant ADO6
Step 6:- After updating the posting period variant and name fields, click on the save icon to save the data.
Thus Posting Period Variant AD06 is defined in SAP.