Purpose
To outline the procedure to restore queries that have been migrated to 7.0 back to 3.x.
Overview
Once older verion (3.x) queries are migrated into latest version (7.0), Query can be restored to 3.x after migration. The backup for any query created in 3.x will be taken when first opened for editing in 7.0 Query Designer. The backup contains the last change done to the query using 3.x editor, any changes done in 7.0 Query Designer will be lost on restore. Also the query originally created in 7.0 can not be restored to older versions as there is no Backup in 3.x.
Queries can be restored to 3.x version using program COMPONENT_RESTORE.
Steps
1. Execute "COMPONENT_RESTORE" program in SE38.
Step 2 :   Next screen Select InfoProvider and component type. Different component types are available like
Step 3 : Select REP as a component type to revert back Query.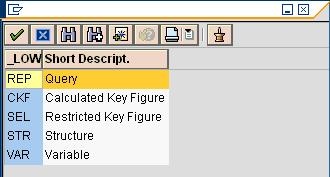 Step 4 :  Execute (F8). In the next screen it will displays all related Queries for that particular infoprovider.
Step 5 : Search for the query which you want to revert back to older versions.
Step 6 : Then say transfer selection. below message will appears in the system.

Step 7 : Once we select Yes, Query successfully restored into older versions.
Related Content
Related Documents
Insert SAP Help links or other WIKI content
Related Notes
Insert links to any related notes/KBA that support your topic or are related