Create new position by using PQ13
The following training tutorials guides you how to create new position in SAP HR by using transaction code PQ13 step by step.
Step 1: – Enter transaction code "PQ13" in the command field and enter.
Step 2: – Update the validity period i.e starting date and ending date fora new position. After updating validity click on execute (F8).
Step 3: – In next screen, update the following fields.
Object abbreviation: – Update the name of the object, you can update up to 12 characters
Object name:- Update the descriptive name of the object, you can update up 24 characters long.
Click on save button to save the data
Step 4: – In  next essential relationship screen, create the relationship A-03 that belong to organizational unit
Update the id of related object, you can get id by pressing f4 function key on id field.
After selecting ID press enter, then automatically organization unit abbreviation and name fields are updated.
Click on save button (ctrl+s) to save the relationship.
Step 5: – In next step, create relationship A-002 reports to managers position.
Select related object, here we selected S position.
Update the ID of related object by pressing function key F4 on ID field.
After updating ID object press enter, automatically abbreviation and name are updated..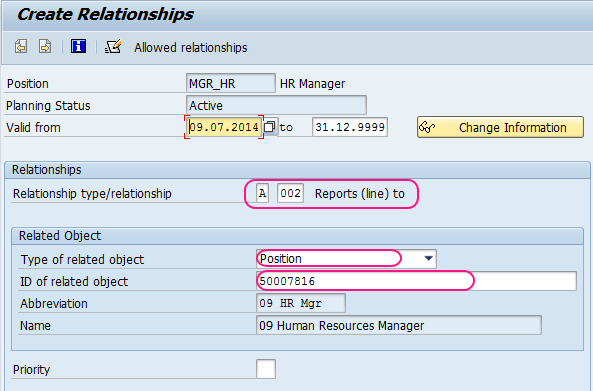 Click on save button to save the configured relationships.