In SAP QM, Master Inspection Characteristic ( MIC ) is a characteristic in physical or chemical property of the product that the company want to monitor and control from a quality view.
There are two type of Master Inspection Characteristic.
1.Qualitative characteristic is attributes of product in non numerical qualities such as paint/color, surface for rusted.
2.Quantitative characteristic is attributes product of pyhsical or chemical as numerical value, for example 20mm for dimension, 20kg for weight.
You use MIC when creating task list or you reference or include them in inspection plan, then assigned to the plant.
To create MIC you can use transaction code QS21 or follow the menu path SAP->Logistic->Quality Management->Quality Planning->Basic Data->Inspection Characteristic->Create.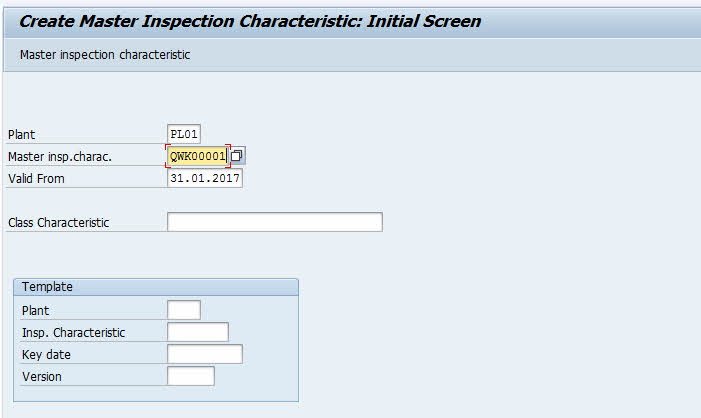 In the initial screen, enter plant PL01 and master inspection characteristic QWK00001, Valid from date is optional because SAP System automatically assign the current date.
As we mentioned before, the MIC have two type they are Qualitative and Quantitative, you can choose them in this screen. Set the status of MIC as Released to make the MIC available during QM Activities for example when you create an inspection plan.
If the MIC is used for quantitative inspections, it needs you to use the Incomplete Copy Model options, this means you don't have to set the nominal value, tolerance settings, and so on .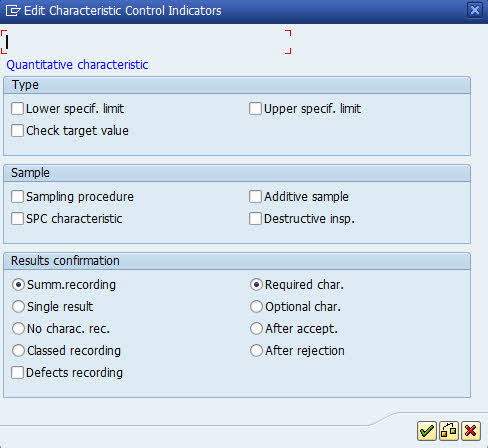 Click Control Indicator button toolbar, to set control indicator for MIC, there are 3 part of Control Indicator they are Type, Sample and Results Confirmation.
| Control Indicator | Meaninng |
| --- | --- |
| Lower Spec Limit | lower specification limit of the MIC |
| Target Value | The system will check whether the target value is within the tolerance range |
| Upper Limit | upper specification limit of MIC |
| Summarized Recording | You can only record or report summarized values for the MIC |
| Single Result | You can record individual values |
| Mandatory Characteristic | Required confirmation before you can make Usage Decision |
| Optional Characteristic | You dont need to confirm MIC for Usage Decision |
Click Continue , the new screen will show, in this screen you can configure characteristic control indicator.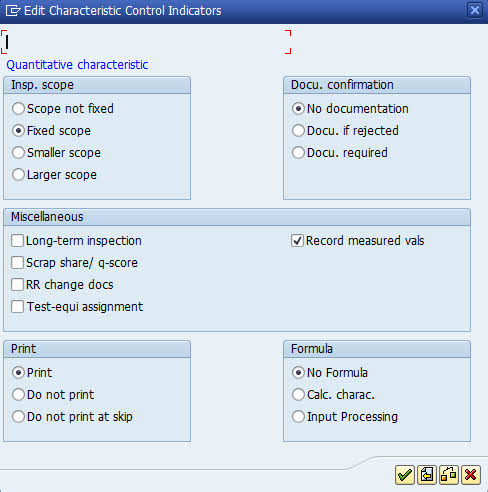 The next step you need to assign inspection catalog to the MIC, You can assign the catalog type such as 9 ( Defect Type ) as well as the code group via menu Goto ->Catalog for the Characteristics.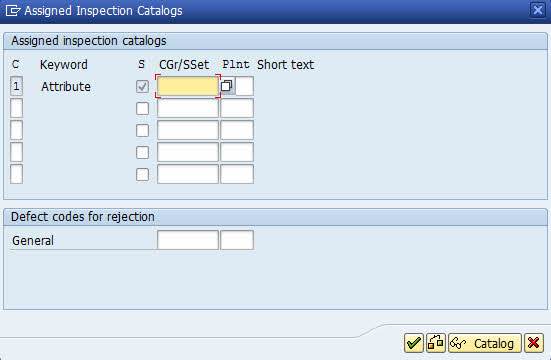 You can assign defect code to the characteristics, performing valuation of qualitative characteristic with YES/NO, or quantitative characteristic with the measurement value, for more precise defect description in the case of a rejection you can make a special catalog with catalog type 9 DEFECT TYPES.