Welcome to the tutorial where we will discuss SAP Period Lock functionality. In practical scenarios, it is essential to have control over back posting and irregular period posting which at the end puts negative impact on controlling entries and reporting. In every SAP module/submodule, SAP Period Lock functionality plays an important role. Most of the business processes have a particular policy about how to maintain posting periods, when/how period lock is to be applied to control period postings.
SAP Period Lock – Introduction
Identical to the concept of locking period in FI, period lock functionality is introduced in SAP CO to lock plan and actual business transaction for combinations of a controlling area, fiscal year, and version. This functionality enables us to prevent further postings in locked periods.
It is commonly used during month end closing process where it helps to lock/unlock posting periods for CO postings.
SAP period locking procedure in Controlling takes place in three stages which are given below.
First, we need to unlock the next posting period.
All transaction postings related to auto/manual overhead/activity allocation/distribution need to be locked prior to the month end settlement.
In the last stage, we need to lock the current period.
However, it is recommended not to lock the prior period until all month end allocations and settlements are completed. In SAP, we use transaction code OKP1 to unlock the period. In order to unlock prior period, the management or the concerned authorities should review the impact of posting entries in prior period.
Let's go through the period locking procedure.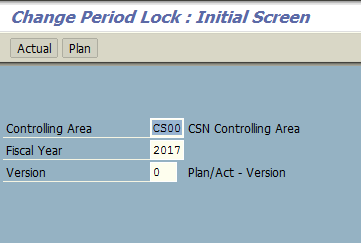 Here we would like to lock January / period 01 for all actual postings. So, in this case we will enter the following:
Controlling Area: CS00
Fiscal Year: 2017 (Relevant fiscal year which is still open for postings)
Version: 0
Choose  to lock January for actual postings as shown on the screenshot below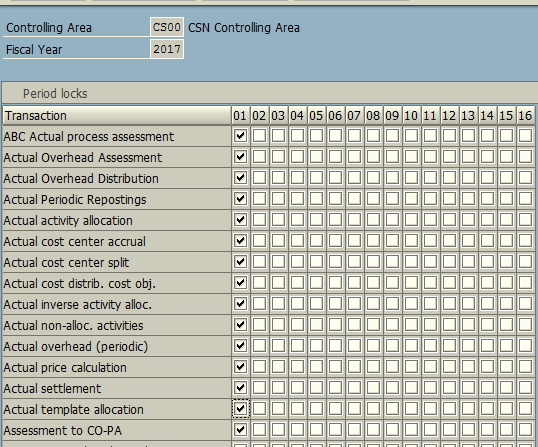 Once relavant transaction(s) is selected for the relavant period (period 01) press Enter and then click Save. SAP period Lock is initiated with the following system confirmation message:

In this way, you can lock all the transactions for the current period. In the same way, to unlock the period and transactions select the following button: 
.
Period Lock – Use and Considerations
Before execution of OKP1 for locking/unlocking it is advisable to conduct a proper review and analyze the result of the early settlement period. For any impacted periodic entries, related department should be informed. SAP best practice also suggests that locking cannot be performed at the month end until the deadline of posting entries and settlement.
As a result of SAP period lock, the following transactions will be impacted and therefore require settlement re-run:
KSV5 – Execute Actual Distribution
KB15N – Enter Manual Cost Allocation
KB21N – Enter Direct Activity Allocation
CAT7 – Transfer to Controlling
Besides this, for unlocking of period(s) we also use transaction OKP1. In the case of unlocking, it is also recommended to review the entries and settlements.
SAP Period Lock with Background Job
The disadvantage in using OKP1 transaction is that mistakes can be made or it can be forgotten. So, there are chances that users can post this transaction knowingly or unknowingly even though they should not be posted. For this reason, there is a program which can be scheduled as a background job to perform period lock. Program RKCOOKP1 has been developed by SAP to schedule the transaction for closing within controlling as a background program.
SAP has developed two enhancements for this program:
RKCOOKP1_MORE – This enhancement is used to execute the closing for multiple years.
RKCOOKP1_MULTI – This enhancement is used to execute the closing for multiple years and multiple controlling areas.
SAP Period Lock Table
The table to view controlling period lock is KAPS. It shows the details of the Controlling Area, Fiscal Year, Version, Business Transaction and Period Lock. Each field PSPXXX refers to one period of the Fiscal Year selected in field 'Fiscal Year GJAHR'. There are 16 periods per Fiscal Years. The column Business Transaction refers to a type of transaction which can be locked or unlocked for a period depending on whether or not there is an X in a period lock column. Whenever there is X in the table KAPS, there is a tick mark in the corresponding intersection in OKP1, indicating that the period and the business transaction is locked.